Vida Kenison Rayl
1927 ~ 2011
Vida Rayl, 84, of Pleasant Grove passed away, Friday, September 23, 2011. Vida was born January 29, 1927 in Talmage (Duchesne County) Utah to Thomas and Mary Ellen Kenison. She married James Willard Rayl on January 29, 1947 in the Salt Lake LDS Temple. Jim passed away on August 23, 2010.
Vida spent her first 20 years in Talmage where she attended schools, graduating from Altamont High School in Roosevelt. Vida grew up in a time of horseback transportation and outdoor plumbing and learned the value of hard work and making do with very little. Vida was an active member of the LDS Church and served in many callings throughout her life. She particularly enjoyed her work in genealogy and served a Genealogical Mission, together with Jim, at the State Prison.
She is survived by her five children: Lois (Ron) Rice, Alberta, Canada; MaryAnne (Steve) Edwards, Alabama; Bruce (Renee) Rayl, Payson; Brian Rayl, California; Jackie (Chris) Bloomfield, California; 21 grandchildren and 35 great-grandchildren. She was preceded in death by her daughter Janine Loveless.
Funeral services will be held Wednesday, September 28, 2011 at 11:00 a.m. in the Battlecreek Second Ward Chapel, 1255 East 200 South, Pleasant Grove. Family and friends may attend a viewing Tuesday evening from 6-8 p.m. at Olpin Family Mortuary, 494 South 300 East, Pleasant Grove and at the church on Wednesday one hour prior to services. Interment will be in the Pleasant Grove City Cemetery. Condolences may be sent to the family at www.olpinmortuary.com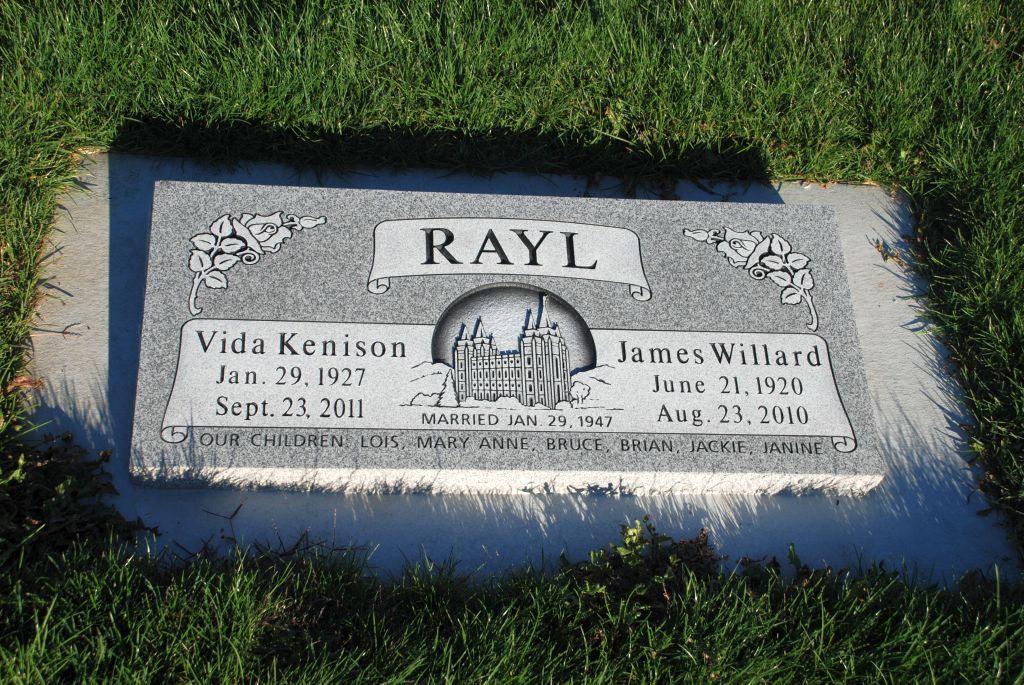 This marker is located in the Pleasant Grove Cemetery Exact Location = 40.37111, -111.7435